This is where we bring you the odd snippets of School news.
You may also be interested in our webpage -How we communicate with families –Click here
Check out our School Calendar page (whole School events)- Click here
And please check the class blogs on a regular basis.
You can also follow our twitter account & like us on Facebook.
(The date the item is posted is given on the left side)
Snippets –
5TH DECEMBER 2017:
DETAILS OF DATES AND TIMES FOR OUR CHRISTMAS PERFORMANCES:
30th October 2017:
Welcome back to school for the second half of the Autumn Term.
We would like to draw your attention to the following:
The Lit and Phil and Newcastle Libraries 'Books on the Tyne Event' – The Newcastle Book Festival.
25th November -3rd December 2017
On Saturday 25th November at 11 a.m. at the City Library, we are proud to inform you that our Year 5 teacher Miss O'Reilly is reading a book she herself wrote as part of the above event.
Her book 'The Boy with his Head Stuck in a Book' uses augmented reality technology to make the book come alive.
Please pop along and support her at what we are sure will be a fabulous event.
For more information, we have booklets in school or visit the web site: www.booksontyne.co.uk or phone 01912774100/01912320191
10th October 2017:
SCHOOL PHOTOGRAPHS:
Ivan Burn, the School Photographer will visit school on Monday 16th and Tuesday 17th October. He will take photographs of individual children and siblings in school. If you would like to bring in pre school age children to have a photograph taken with their school age siblings on Monday afternoon, please contact the school office to arrange an appointment.
HARVEST FESTIVAL:
The Harvest Festival will take place in St. Andrew's Church at 9.30 a.m. on Friday 20th October.
If you are able to come to the service and would be willing to walk up and down to church with the younger children, please meet in the school hall at 9.00 a.m.
These will be refreshments at school provided by Friends of Heddon School after the service.
As in previous years, the gifts of foodstuffs will be sent to the People's Kitchen. The People's Kitchen prefer tinned and dried goods if possible but all contributions are gratefully received.
If you would like to send a donation of food for the People's Kitchen please send your contribution to school any time next week.  Thank you very much for your support of this worthy cause.
OPERATION CHRISTMAS CHILD:
Your child will be bringing home a leaflet about the above project next week. As you will be aware this is a project we have supported many times in the past.
In addition we have been told of another worthy cause whereby the children fill an old but still serviceable back pack with pens, pencils etc which is then sent to children who do not have the benefit of such items. As soon as we have leaflets about this charitable project we will also send them home to you.
As always we would like to stress that it is entirely up to individual families which charities they choose to support.
Thank you
4th October 2017
IMPORTANT: CHANGE OF INFORMATION RE CHRISTMAS PERFORMANCES:
Due to unforeseen circumstances we have had to change some of the Christmas Performance dates and times, please see below for up to date information:
KEY STAGE 2 PERFORMANCES TUESDAY 19TH DECEMBER AT 1.30 P.M. AND 6 P.M. IN SCHOOL
KEY STAGE 1 PERFORMANCES WEDNESDAY 20TH DECEMBER 1.30 P.M. AND 6 P.M. IN ST. ANDREW'S CHURCH.
We apologise for any inconvenience caused.
14th July 2017:
Please find the attached letter confirming classes and teachers for the Academic Year 2017-2018
6Music Lessons: Will begin once again in September. Please see the attached letter if your child is interested in playing the keyboard or guitar.  CLICK HERE
3rd July 2017:
Our stocks of  sweatshirts, cardigans and bags have now arrived. To save queues at the office door, please find attached an order form which you can sent to school with the money and we will send your order home with your child.
Please note that supplies do run out nearer the end of term both at school and occasionally with the supplier. Please order asap.     CLICK HERE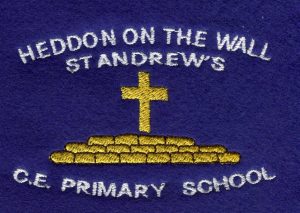 Pls Note: Our old logo will remain the same on book bags until our current stock runs out.
30 Hours Free Childcare for 3 and 4 year olds!
Find out if you could be entitled to 30 hours of free childcare:  www.childcarechoices.gov.uk 
VERY EXCITING NEWS
We have been successful in a bid to the MOD Education Support Fund and will shortly be the owners of a brand new school mini bus.
This is very exciting and will enable us to help parents, especially those who live at Albemarle Barracks or other outlying areas to come to school events and functions which they would otherwise be unable to attend due to transport issues. It will also enable the staff to take children to sporting events, concerts, music events etc where previously the cost of transport would have been prohibitive.