This is where we bring you the odd snippets of School news.
You may also be interested in our webpage -How we communicate with families –Click here
Check out our School Calendar page (whole School events)- Click here
And please look at the class blogs on a regular basis.
You can also follow our twitter account & like us on Facebook.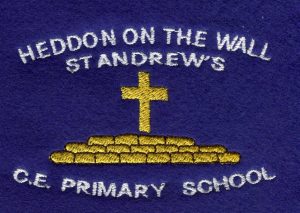 (The date the item is posted is given on the left side)
Snippets –
8th November 2019
Netball Club. Please see below for letter regarding new after school netball club starting Wednesday 13th November 2019.
Netball Club Click Here
21st October 2019
Please find the below letters for clubs starting after the October half term. 
Gary Ives  CLICK HERE
Karate  CLICK HERE
Lego  CLICK HERE
16th October 2019
We delighted to confirm the appointment of Julie Darby as Office Manager who starts work with us on Monday 21st October. Julie has worked for several years at Walbottle Campus and comes with a wealth of experience.
We are also thrilled to confirm the appointment of Mr McDonald who will cover Ms O'Reilly's absence in Year 6 after the October half term holidays. Mr McDonald is an experience teacher who has worked in schools in both Gateshead and Lowestoft.
We look forward to welcoming Mrs Darby and Mr McDonald to our school team.
27th September 2019
SEND Roadshows
Please see the attached leaflet for details relating to the SEND Information Roadshows in Northumberland during September and October.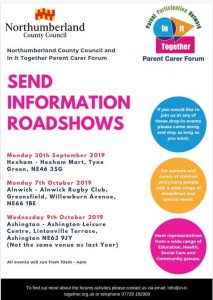 Brexit Advice
Please see the attached letter from the MAT with regards to advice for EU,EEA and Swiss citizens. Click Here
25th September 2019
National Youth Choir Auditions – Years 5 & Years 6
Pls see the attached notice for the National Youth Choir auditions for Year 5 & 6 children. click here
10th September 2019
MEET THE TEACHER
Come and meet your child's new teacher. Find out about your child's new class and the work that they will be doing this year on Monday 23rd September 2019 at 5.30pm in School.
There will be an opportunity to ask the teacher general questions about what the children will be doing in the coming year. 
10th September 2019
OPERATION ENCOMPASS WORKSHOP
On Thursday 12th September 2019  Sarah Donnison, our School Safeguarding Liaison Officer from Northumbria Police will be in School to lead a workshop about friendships, relationships, emotions and rules with the children in Year 4.
She will be available from 8.30am to speak to parents/carers/ children privately about any issues around relationships or Domestic Abuse.
To read the introductory letter please –Click Here
9th September 2019
VISIT FROM ADAM BUSHNELL (AUTHOR)
The School is pleased to welcome the author, Adam Bushnell who will be visiting on Tuesday 10th September 2019. Adam will be leading a whole School assembly and then carrying out workshop sessions with each class in Key Stage 2. There is an opportunity to purchase one of his books and have it signed during the day.
For book details and prices please Click Here 
7th August 2019
FAREWELL AND THANK YOU FROM LYNDA HENDERSON
After 33 .5 years at Heddon School, I am retiring at the end of August. I feel very lucky to have been so happy in my job for more than half my life. My personal life has run parallel with my working life and as my own family have grown up, got married, had children and members of my close family have died I have always had the support of wonderful colleagues to share the joy and commiserate in times of sorry.
I have seen lots of changes during my time at Heddon School and have made many lifelong friends.
I have loved working with children and have been pleased to meet children of children who attended this school – though this did make me feel old!
I have been overwhelmed by the generosity of parents, governors,staff and children who gave me gifts, cards and said many kind words of appreciation which I will treasure in my heart always.
I was fortunate in being able to share the Leaver's Service with the pupils in Year 6 and was treated to a medley of my favourite music and hymns. Thank you to Liz Milner and the staff for all the thought behind the choice of music and for the hard work which went into 'secret' rehearsals at the busiest time of year and of course thank you to the children for their fantastic performance.
I have no plans as yet for my retirement though I do hope to see more of my grandchildren all of whom live in Cumbria. I am also fortunate in that I still have my Mam who is now aged 93 and other elderly relatives with whom I will be spending more time.
However, I know it is going to be very hard for me to embrace the change in my circumstances when my working life has been so happy but one thing is certain, I have many, many happy memories to look back on from my life at Heddon School.
Thank you once again.                          Lynda.
22nd July 2019
As a Church School, we very much believe in the teachings of Jesus.
In the Bible you  find words like 'Give, and it will be given to you' and 'It is more blessed  to give than to receive'.
This has proved to be so true this year. Thanks to the parents and friends of school, we have given to a variety of Charities very generously 
We ourselves have been very fortunate to have received £14.5k from The Sir James Knott Trust which has provided a School Garden and an adventure fort on the playing field but also, on Friday, we received the wonderful news that we have been awarded £10k from the Lottery Fund which will enable us to erect a sturdy piece of play equipment in our Early Years yard too.
A huge thanks to Mrs Derbyshire for filling in endless forms, fielding numerous phone calls but succeeding in the end to secure the Lottery Bid.
We would also like to thank Mrs Derbyshire for all her hard work and dedication to the work of Friends of Heddon School. Though she is always happy to help with events at school she has decided to 'retire' from her position of Chair of FoHS. 
18th July 2019
We are very nearly at the end of another academic year. We would like to thank everyone for the ongoing support for everything we do at this school.
We would especially like to thank the staff for their dedication and commitment to teaching the children and to the Governors who support us in everything we do.
Lots of extra treats and activities are provided by Friends of Heddon School and we are extremely grateful for the tireless effort put in  by the members. We are sorry that Mrs Cassidy and Mrs Jude have decided to retire from FoHS Committee but we would like to say a special thank you to them and to wish them well in their future ventures.
You will no doubt have noticed the improvements to our Early Years outdoor area – a very special thank you to John Wilkinson and his team for all their hard work. I am sure we will have a Grand Opening in the Autumn Term so everyone can see and appreciate their efforts.
We would like to say a huge thank you for your amazing support of all our fund raising initiatives this year. The chosen charities are absolutely thrilled with the donations we have been able to give to them.
As you are aware, we became part of the Pele Trust in February and since this time, we are pleased to say we have been forming close links with the other schools in the Academy.
This is the first year we have had to say farewell to a Year 6 class as they move to their new school, good luck to them and to the pupils from other years who are leaving us for a variety of reasons.
We are also saying farewell to Lynda Henderson who after 33 and a half years is retiring as Office Manager – we wish her every happiness in the future.
Finally, we have some lovely news to share with you and that is that Mrs O'Reilly has confirmed that she is expecting a baby early next year.
We are sure you will join with us in congratulating her and her husband on this wonderful news.
We hope you will have a restful, safe and enjoyable Summer and we will see everyone back at school on Tuesday 3rd September.
FUND RAISING:
Thank you so much for your support and generosity for our recent fund raising initiatives. The Early Years Wellie Walk raised £996. You will be noticing improvements to the EY outdoor area already and the Team have lots more fun and exciting things planned.
Our sponsored walk and non uniform day to raise money for blood charities in memory of Ed Ammon raised a staggering £1,290.65. 
This wonderful total shows our love, sympathy and support for the Ammon family at this very sad time. Thank you once again.
We will be writing cheques to the family's chosen charities.
SPORTS DAY PROGRAMME:
9.15 a.m. – 10.15 a.m. Early Years
11.00 a.m. – 12.00 noon Key Stage 1
1.15 p.m. – 2.30 p.m. Key Stage 2
Looking forward to seeing you all and fingers crossed the rain stays away.
8th July – School Clothing for Charity
Mrs Vasey will take all unwanted, good quality :
school uniform 
Shoes
Coats
Bags
PE kits ( football shoes, shorts, tracksuit top & bottoms)
Out of school club clothing- Ballet, Tap shoes, leotards, football boots etc
Normal clothing for babies, children's, men & women
Personal items- shampoo/ conditioner, soap, shower gel , deodorant etc etc
Household items- washing up liquid, washing powder for clothing, etc etc
Basically anything that can be used by someone else who would really appreciate it. 
to Community School Clothing Scheme, North Tyneside at their base at Cobalt Business Park.
Please bring in any donations from now on until Friday 19th July (the last day of term) Please feel free to leave donations at the office. They will be collected at midday. 
27th June – Music In School
Music Partnership North offer musical instrument tuition at school.  
Pupils are offered the opportunity to take up tuition, with group or individual lessons, on a range of instruments. These lessons take place during the school day or after school. Please contact the school office to learn which instruments are available and the cost of lessons. Advice on hiring or purchasing an instrument can also be arranged through Music Partnership North. Further information about this is available on our website at http://music@northumberland.gov.uk.   
If you require any further guidance on the work of Music Partnership North then please contact the office on 01670 624045.
25th June 2019
Class Arrangements for September 2019.  CLICK HERE
24th June 2019 – Heddon's Got Talent
Please find the attached letter regarding Heddon's Got Talent on Wednesday 17th July CLICK HERE
24th June 2019 – Music & Club Letters for September 2019
If you would like your child to start or continue Music Lessons in September, pls complete the attached consent form CLICK HERE
Please find the below letters for clubs starting at the start of the new academic year
Gary Ives CLICK HERE 
Karate CLICK HERE
Lego CLICK HERE
19th June 2019 – SWIMMING GALA
We are so proud of the fantastic swimmers from Year 4 who took part in the Gala today at Prudhoe Waterworld.
The jangle of medals could be heard loud and clear as the children entered school. As well as many individual achievements, the Relay team won their event and the Whole Team were second placed overall.
Huge Congratulations to you all and a Big Thank You to Mrs Ziolkowski who  takes the children to the baths every week, ensures everything runs smoothly and all children achieve their potential..
5th June 2019
Successful Funding Bid:
We are delighted to inform you that we have been successful in securing funding to improve the outdoor environment from the Sir James Knott Trust.
The Sir James Knott Trust, kindly donate to our school fund every year and we have always used this income to provide extra treats and activities for the children which the school budget cannot provide.
Since the extensive building work took place, the grounds of the school have been in a poor condition with very little to interest and stimulate the children.
We put together plans, quotes and accompanying letters and placed a bid to the Trustees of the Sir James Knott Trust to consider at their meeting in May.
Just before half term we received the wonderful news that the bid had been successful and a cheque for over £14k was included with the letter.
Over the next few weeks, you will see the erection of a magnificent wooden play fort on the field for the benefit of all the children. The completion of the Sensory Garden, a project which up to now has been funded by Friends of Heddon School, a Wildlife Garden and an Allotment with a table, seating, pathways and raised flower/vegetable beds.
We would like to thank everyone who has put in such a lot of time and effort to help with the planning and preparation for this bid and would like to extend out heartfelt thanks to the Trustees of the Sir James Knott Trust.
13th May 2019 – Community Clothing Scheme
One of our parents  will be going to Community School Clothing Scheme, Cobalt Business Park next Friday 17th May with various donations. She is happy to take the contents of our Lost Property Box. 
This is a wonderful charity run by volunteers with hearts of gold. It was started up by Freema Soul Chamber, who saw the need to try to end uniform poverty. People donate their pre-loved school uniforms/ or new / shoes/ PE kits, Games kits, football boots etc and these are available free of charge to anyone who wants / needs it. This started in her back bedroom for the local schools around Cramlington and then expanded rapidly over the past two years and now they have a huge base at Cobalt Business Park. They have expanded into clothing and shoes for babies, children, men and women. They charge very minimal prices for each item- cheaper than charity shops now. 20p, 50p, £1.00, £2.00. 
They have an extensive Nursery Department which stocks almost everything you need for a baby equipment wise and loans all this out to anyone who has a need free of charge. 
 Plus they also take furniture and homeware for people who are fleeing domestic violence and abuse. This is usually a referral service, but at the discretion of the team. There really isn't much they don't take. As long as someone else could use it, then the Scheme will take it. 
It would be wonderful if our school got on board and supported this wonderful charity.  Especially with the end of the school year approaching. 
Look up on their Facebook page for more information or phone Reception for more information. 'Community School Clothing Scheme' 
31st January 2019
Please see the attached letter re our school  becoming a Pele Trust Primary School . CLICK HERE
Advice from Public Health England.
At this time of year, it is not uncommon for viruses which cause vomiting and diarrhoea to circulate among children (for example norovirus, also known as the 'winter vomiting bug'). If your child develops diarrhoea and or vomiting, it is important that they stay off school until 48 hours after they last vomited or passed diarrhoea to avoid the spread of further infection. As always, please contact your GP or NHS 111 if you are concerned or need further advice on how to manage an illness.
See link below for latest Public Health England Guidance
https://www.gov.uk/government/publications/health-protection-in-schools-and-other-childcare-facili