This is where we bring you the odd snippets of School news.
You may also be interested in our webpage -How we communicate with families –Click here
Check out our School Calendar page (whole School events)- Click here
And please look at the class blogs on a regular basis.
You can also follow our twitter account & like us on Facebook.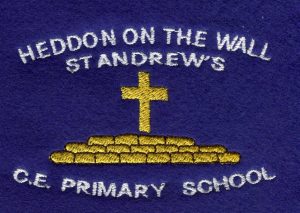 (The date the item is posted is given on the left side)
Snippets –
24th October 2018:
School closes for the half term holiday at 3.15 p.m. on Friday 26th October and reopens on
Monday 5th November.
We hope you will have en enjoyable holiday and that this lovely Autumn weather will continue.
On the afternoon of Thursday 8th November, Friends of Heddon School are organising an Autumn Disco for all the children. The cost is £2 for the first child and £1 for siblings. This price includes refreshments. The children may bring their 'Disco' clothes to change into at lunchtime if they so wish.
Friends of Heddon School work very hard to raise additional funds to provide 'extras' for the children. Unfortunately they have very few regular members. We would like to compile a list of anyone who , though they make not be able to attend meetings, would be happy to help out at events. This involves manning a stall at a Fair of serving refreshments at Christmas performances etc.
If you would be happy to have your name on such a list, please speak to a member of the office staff or   Mrs Derbyshire who works in Year 2.  Many thanks for your support.
17th October 2018
SCHOOL PHOTOGRAPHER 5TH AND 6TH NOVEMBER- ARRANGEMENTS:
Ivan Burn will visit school on the above dates to take photographs of all the children. Children will have an individual photograph taken and one with any siblings they have in school. It is NOT necessary to make an appointment for sibling photographs.
If you would like a photograph which includes siblings who are not in school at the time of the photographer's visit, you must make an appointment.
Appointments will be at ten minute intervals starting at 3.15 p.m. on Monday 5th November.
Please call the office 01661853350 to make an appointment. If we are unable to fit in all the requests for appointment times, we will arrange appointments on Tuesday 6th November from 3.15 p.m. also.
15th October –
Re:     Harvest Festival – Friday 26th October at 10 a.m. in St. Andrew's Church
Once again we are supporting the work of The People's Kitchen by asking for contributions of dried and canned goods, fresh produce and toiletries.
If you would like to donate any of the above items, please bring them to school no later than the morning of Friday 26th October when a representative from The People's Kitchen will call and collect them.
Thank you very much for your ongoing support of this worthwhile charity.
Once again we would ask that if you are able to attend the service and are willing to help,  you walk up and down to Church with the younger children. We will be leaving school at 9.30 a.m. Many thanks.
11th October
Please find the below application forms for clubs commencing after October half term
Karate CLICK HERE
Gary Ives CLICK HERE
Lego Club CLICK HERE
5th October
Friday 19th October – Yr 2 Multi Skills Trip at Ponteland Leisure Centre – CLICK HERE
26th September.
Next week, we will be sending home leaflets about two Christmas Appeals you may like to support. One is Mary's Meals Backpack Appeal and the other Operation Christmas Child.
In addition we will be having a Christmas Jumper Day on Friday 14th December in aid of Save the Children Fund.
As we have stressed in the past, supporting charities is something which is entirely up to the individual family. We simply distribute the information to raise awareness. Everyone is welcome to chose whichever charity they prefer to support. Thank you.
20th September 2018:     Please find details of our new morning FITNESS CLUB starting on Thursday 27th September. CLICK HERE
Please see the attached letter for the Yr 1 & 2 Trip to HALL HILL FARM CLICK HERE
13th September 2018:     DATES FOR YOUR DIARY SEPTEMBER 2018-JULY 2019    CLICK HERE
This is a list of dates for the coming academic year. More information will be sent home as necessary nearer the time.
11th September 2018:  Music lessons begin on 21st September. Please see the attached letter for more information.     CLICK HERE
6th September 2018
DATA COLLECTION SHEETS
Next week your child will bring home a Data Collection Sheet on which is listed all the information we hold on your child. In order to keep this up to date, please could you check the details, amend/add/delete as necessary (preferably in red pen) and return it to school at your earliest convenience. Thank you
MEET THE TEACHER
On Wednesday 19th  September, you are invited to come to school between 5.30 pm – 6.30 p.m. to meet your child's teacher. This is an informal meeting and we look forward to seeing you. Later in the term, there will be an opportunity for you to come to school to see the teacher again to discuss how  your child is settling and to chat about their work and progress.
6th September 2018
An incident of dangerous parking has been brought to our attention this morning. Please could we ask that at all times, you park sensibly and take great care  when moving  your car in case there are children or adults nearby.
We always encourage children to walk to school whenever this is possible. The cars parked at the Hexham Road entrance to the park cause a great many problems on the brow of the hill as do cars parked in the cul de sac outside the main entrance to school.
The safety of our children is, as always, of paramount importance to us and we try to make every effort to keep them safe at all times.
Thank you
5TH SEPTEMBER 2018
Welcome back to school for the start of the new academic year. We hope you have all enjoyed your summer holidays. We welcome back Mrs Southern and Miss Thompson and are delighted that Miss Pearson has remained with us, she is now teaching  Year 3.
We also welcome all our new pupils who  arrived at school this morning looking very smart and (mostly) smiling!
We send congratulations to Miss Cross who became Mrs March following her marriage during the summer holidays and Miss O'Reilly (now Mrs O' Reilly) who was also married during the summer holidays.
Congratulations  to Miss Williamson who now has a baby boy and Miss R Thompson who has just given birth to a baby girl.
All our out of school clubs commence next week. (Week beginning 10th September)
Despite a few technical hitches, we hope that all application forms for clubs will be added to this page over the next couple of days:
Choir      CLICK HERE
French Club     CLICK HERE
Gary Ives Football       CLICK HERE
Gary Ives Kit List       CLICK HERE
Karate      CLICK HERE
Lego Club     CLICK HERE
Fish Club:     This club is open to any child who would like to attend from Years 1 – 6 inclusive. Each week the children do crafts, hear stories and learn about the Bible in an informal and fun way.
You will also be able to collect club letters from the duckets beside the main entrance.
20TH JULY 2018
School is now closed for the summer holidays. We hope you will all enjoy the break and that the weather will remain sunny and warm.
Our first year as a Primary School is over and though hectic has been very successful and rewarding with many great achievements. We are also  proud and privileged to have welcomed our very special visitors: the Archbishop of York and The Prime Minister.
We are sure you will join us in sending best wishes to Miss Williamson and Miss R Thompson who are expecting babies during the summer and to Miss Cross and Miss O'Reilly who are to be married.
We would like to thank everyone for their support throughout this year: Parents and relatives of the children, our dedicated Staff and Governors, Members of the Community and St. Andrew's Church and of course the very hard working Friends of Heddon School.
School will reopen to pupils on Wednesday 5th September and we are looking forward to welcoming everyone –  especially all our new pupils.
6th July 2018
PONTELAND HIGH SCHOOL
Please find the attached letter from Kieran McGrane – Headteacher of Ponteland High School, regarding September 2019. CLICK HERE
5th July 2018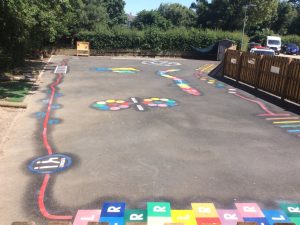 KEY STAGE ONE PLAYGROUND
Please call in to see the wonderful new playground for our Key Stage One children.
We would like to say a huge thank you to Friends of Heddon School who have worked so hard to organise events and activities to raise funds for this project. We are also grateful to Mama Jacks and Mr Kenny for our mud kitchen.  To Heidi and Mrs McGurk who along with other staff worked hard to clear the ground and create the play areas and the fairy garden. A very special thank you to Mrs Ziolkowski who has  managed and coordinated the whole project. You will see from the picture what a fun place this is for the children to play and create their own games.
However we are continuing to raise more funds to enable us to build a 'stage' in the playground on which the children can 'perform'.  You may see our 'Playground Pigs' in various locations around the village just waiting for anyone to throw in some loose change! In the meantime we would be most grateful if you have any old metal or wooden pots or pans or cutlery  you no longer need and which the children could use outside in the mud kitchen.
Finally thank you to all the parents, friends, members of the community and neighbours who have come to school to support our fund raising ventures, without your help and generosity none of this would have happened
22nd June 2018
SPORTS DAY –
St Aidan celebrating their super win! Congratulations.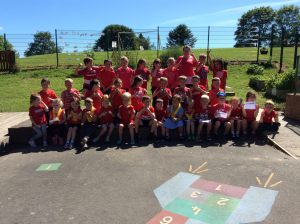 21st June 2018 – Summer Holidays – Last Day 20th July
Teacher2Parents – IMPORTANT – As a valuable method of communication, please read to below update to our Texting Service
Please find the attached letter outlining the new additional security verification for our texting service Teachers2Parents. Click Here  (Hard Copies are available from the office).
30 Hours Free Childcare for 3 and 4 year olds!
Find out if you could be entitled to 30 hours of free childcare:  www.childcarechoices.gov.uk