This is where we bring you the odd snippets of School news.
You may also be interested in our webpage -How we communicate with families –Click here
Check out our School Calendar page (whole School events)- Click here
And please look at the class blogs on a regular basis.
You can also follow our twitter account & like us on Facebook.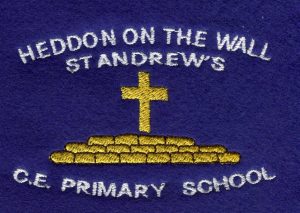 (The date the item is posted is given on the left side)
Snippets –
6th July 2018
PONTELAND HIGH SCHOOL
Please find the attached letter from Kieran McGrane – Headteacher of Ponteland High School, regarding September 2019. CLICK HERE
5th July 2018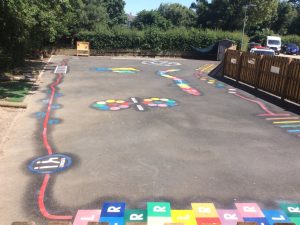 KEY STAGE ONE PLAYGROUND
Please call in to see the wonderful new playground for our Key Stage One children.
We would like to say a huge thank you to Friends of Heddon School who have worked so hard to organise events and activities to raise funds for this project. We are also grateful to Mama Jacks and Mr Kenny for our mud kitchen.  To Heidi and Mrs McGurk who along with other staff worked hard to clear the ground and create the play areas and the fairy garden. A very special thank you to Mrs Ziolkowski who has  managed and coordinated the whole project. You will see from the picture what a fun place this is for the children to play and create their own games.
However we are continuing to raise more funds to enable us to build a 'stage' in the playground on which the children can 'perform'.  You may see our 'Playground Pigs' in various locations around the village just waiting for anyone to throw in some loose change! In the meantime we would be most grateful if you have any old metal or wooden pots or pans or cutlery  you no longer need and which the children could use outside in the mud kitchen.
Finally thank you to all the parents, friends, members of the community and neighbours who have come to school to support our fund raising ventures, without your help and generosity none of this would have happened.
3rd July 2018:
FRIENDS OF HEDDON SCHOOL SUMMER FAIR:   CLICK HERE
HEDDON'S GOT TALENT   CLICK HERE
KWIK CRICKET    CLICK HERE
22nd June 2018
SPORTS DAY –
St Aidan celebrating their super win! Congratulations.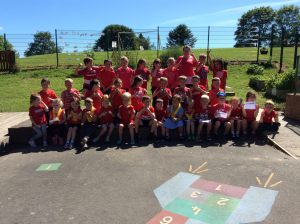 21st June 2018
Yr 5 VISIT TO PONTELAND HIGH SCHOOL:  CLICK HERE
MUSIC LETTER:  CLICK HERE
GIBSIDE TRIP: CLICK HERE
21st June 2018 – Summer Holidays – Last Day 20th July
You are welcome to collect your child following afternoon registration at 1.05 p.m. on 20th July. However, if you wish your child to stay at school, they will be supervised but please could you send a written note to inform your child's teacher that they will be staying. Thank you.
School will reopen on Wednesday 5th September.
18th June 2018:
Lighthouse Children's Home Brick Appeal
As part of Helping Hands week, on Monday 25th June the children will be decorating a brick. We would be very grateful for a £1 donation which will purchase 4 bricks to build a children's home in Kenya. Thank you for your support
Kirkley Hall Zoo Visit
Please find the attached letter for Reception and Nursery's visit on Monday 2nd July 2018 CLICK HERE
6th June 2018:
ARMED FORCES CELEBRATION EVENT:     CLICK HERE
LEGO CLUB FOR KEY STAGE ONE:   CLICK HERE
DRESS UP AND DANCE DAY:   CLICK HERE
PARENT GOVERNOR ELECTION:
Please see attached information:   CLICK HERE
Welcome back to school for the final half term of this academic year. How time flies! We have lots of exciting events and activities planned and we look forward to seeing you at some or all of them.
Charitable Contributions:
As a Church School we regularly like to support Charitable Organisations. For example:
Living Streets – Happy Shoes Day
Macmillan Cancer Care – Dress Up and Dance Day
Operation Christmas Child
Mary's Meals         etc.
Though we really appreciate the wonderful support we receive from parents for our worthwhile causes, please could we stress that charitable contributions are voluntary and parents do not need to contribute to every event if they do not wish to do so. Thank you.
Walk to School Week – Week commencing 4th June 2018
As part of our Walk to School Week we will be holding a Happy Shoes Day on Tuesday 5th June.  We will be raising money for 2 charities, firstly LGBT and secondly the Living Street Walking Project.
To support LGBT equality we have purchased special Rainbow laces which will be given out to the children to wear. We would also like to ask children to donate £1 on Tuesday 5th June and come into school wearing their most weird or wonderful shoes.
18th May 2018:
We are currently improving the outdoor environment for the children. We have exciting plans for the playgrounds and have a very keen Gardening Club who are planting, weeding and making the garden areas attractive.
We are very grateful to FRANK'S CARPETS AT WESTERHOPE, who kindly donated a large roll of imitation grass for our 'Fairy Garden'.
Karate, Cricket and Gary Ives after school clubs will finish next week and resume after half term. Please note Gary Ives does not resume until 14th JUNE.
Please find attached application forms for the clubs and a copy of the letter which will be sent out soon with details of a trip to Matfen Woods for Year One:
School will close at the usual time on Friday 25th May for the half term holiday and reopen on Monday 4th June.
Gary Ives Football Club    CLICK HERE
Karate Club    CLICK HERE
Matfen Woods – Year One   CLICK HERE
Cricket Club   CLICK HERE
We hope you will have a lovely, restful half term holiday and that the sun continues to shine.
11th May 2018:
Royal Wedding Celebrations:
Please see letter with details of how we will be celebrating the Royal Wedding of Prince Harry and Meghan Markle.       CLICK HERE
5th March 2018
Teacher2Parents – IMPORTANT – As a valuable method of communication, please read to below update to our Texting Service
Please find the attached letter outlining the new additional security verification for our texting service Teachers2Parents. Click Here  (Hard Copies are available from the office).
30 Hours Free Childcare for 3 and 4 year olds!
Find out if you could be entitled to 30 hours of free childcare:  www.childcarechoices.gov.uk