We believe that a good balanced and nutritious diet will support the Children's learning.
If you would like to discuss the meals service please contact the School Office.
For the Autumn 1 Term 2023 Menu please Click here
For the Autumn 2 Term 2023 Menu please Click here
How to set up a Live kitchen account (ordering / payment system)- Click here
Additional information regarding School meals is available on the Northumberland County Council website – Click here (including applications for free school meals)
Our School kitchen has been rated as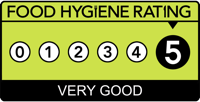 As per 2021.
Packed Lunches
These days, school dinners are probably healthier than most packed lunches. But if you want to make a packed lunch, we've got some great ideas for you.
To visit the Change4Life website which contains great recipies and weekly lunchbox ideas to ensure your child has a healthy packed lunch – Click Here
Free School meals (Correct on 1st Sept 2016) For All Children in Reception, Year 1 & Year 2.
We are a Healthy School – Click here
You can follow our School on twitter @HeddonSchool & Facebook