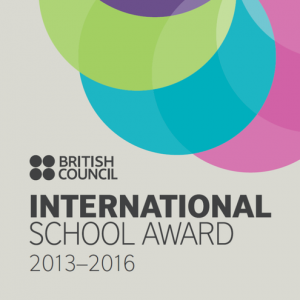 Congratulations to everyone at School as we have achieved the Full International School Award 2013-2016!
The School is pleased to announce that we have been awarded the Full International School Award for the work we have done to promote international links, embed internationalism in the curriculum and raise awareness of global issues.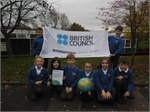 As a school in a small village we are working collaboratively with a number of partner schools, in the UK and beyond, to ensure that our children gain a thorough understanding of what life is like both in different parts of the United Kingdom and the rest of Europe.
The school is pleased to announce that the bid for our project 'Europe in Motion' was successful.
The project ran from September 2012 until July 2014.
The project looked at many different forms of movement and enrichement activities and events looking at life in different countries, travel and holidays, Dance and Sport, Changes through time, Music and singing, Toys and Games.
The project involved some language work and the use of technology to allow children in each country to communicate with each other.
There were opportunities for staff to visit partner countries to examine the education systems and schools as well as sharing good practice.
We welcomed our partners to the United Kingdom in October 2012.
The school worked with children, parents and the wider community on this very exciting and unique project.
The project has its own website which shows all the work produced by the children for each activity.
The web address is:   www.europe-in-motion.org
Why not take a moment and listen to a song written & sang by the Children from each School – Click here
Our School worked with the following partners on our project:
Istituto Comprensivo Statale "Nicola D'Apolito" in Cagnano Varano, Italy;
Zespół Szkolno – Przedszkolny nr 4 in Rybnik, Poland;
Colegio Público de Infantil y Primaria "Victoria Díez" in Hornachuelos (Córdoba), Spain;
30 AĞUSTOS İMAM HATİP ORTAOKULU in Samsun, Turkey;
17ο DIMOTIKO SXOLEIO XANTHIS – 17th PRIMARY SCHOOL OF XANTHI in Xanthi, Greece.
The below PowerPoint presentation was made by our Key Stage 2 children showing the different places Duck Explorer visited during his time in the UK. Click here
Additional information