The School continues to promote international links, embed internationalism in the curriculum, raise awareness of global issues and celebrate difference and diversity.
As a school in a small village we are working collaboratively with a number of partner schools, in the UK and beyond, to ensure that our children gain a thorough understanding of what life is like both in different parts of the United Kingdom, the rest of Europe and wider world.
Year 6 are currently working with La Salle Ecole Catholique in Amiens in France and we are very much looking forward to meeting up together when we visit France in June 2022. The School has over 1000 pupils aged 4-18 and is located in the centre of Amiens.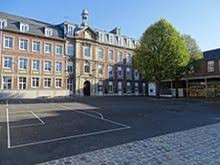 Year 5 are currently working with Ecole internationale Differdange based in Luxembourg.
This work has involved lots of language work enabling the children to use the French they have learnt in School in a real-life context and the French and Luxembourger children to practice their English! The use of technology has allowed children in each country to both share work and communicate with each other.
The School is pleased to be able to offer this visit to France at a significantly reduced rate due to a successful bid for funding from the Turing Programme.
The School is pleased to be part of a work shadowing programme run by the Erasmus programme. It is hoped that we will be welcoming 2 Headteachers from Spain, Mr. Javier Soligo and Mrs. Abigail Galindo, for 2 weeks during the academic year 2022/2023. During this time they will explore both our curriculum and approaches to teaching and learning while sharing with staff best practice from their Schools in Spain.
---
International School Award
The School previously held the full International School Award and post pandemic we are now working towards to Intermediate Level of the Award with a view to achieving the full award again in the future.