Albemarle Barracks is within the catchment area of our school and is home to
– 3rd Regiment RHA (A tradition of excellence).
Our School has a close relationship with the barracks going back many years.
Padre Nathan  (Chaplain 3RHA) is a very welcome visitor at our School.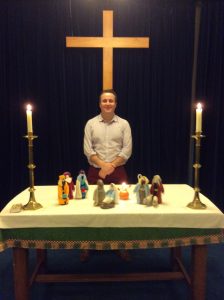 "I have come to a marvellous part of God's undiscovered country. Before 3RHA, I have served with 4 other units and have travelled extensively, but never alone-God has been with me and my family".
"Before military chaplaincy, I served as a hospital chaplain and prior to this as a parish priest. Ministry has been diverse, challenging and rewarding.
I hope to enjoy a close and supportive relationship with the school and with our parish priest, Audrey".
Greetings to you all.
Padre Nathan
Welcome to Northumberland.
Our Military families have come from abroad or from elsewhere in the Country,we welcome everyone and have pleasure to provide the below information to help people settle into life near our School.
Please check out the Forces TV Video – Help at Hand for Latest Military Families to Leave Germany- Click here
Forces TV production – Useful information for settling in this area. Click here (added 15/5/15).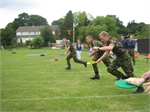 Army Basing Team Video- Transition

How can we help Children from military families learn.
Our staff are committed to providing a safe and enjoyable environment for all Children and some have personal experience of a military family life.
We realise that the time military families spend whilst reunited after postings overseas is to be cherished and we will support everyone through the period.
Many military families arrive after their children have received their education in establishments outside this region or country.
We will work with everyone to help make this a smooth transition.
Our School / home section within this website provides a sound foundation towards achieving this aim. – Click here
Our class sizes are small from Nursery to year 4, which we feel is of a huge benefit to all.
Check out our class blogs which help us celebrate our fantastic School which is situated in the pleasant village of Heddon on the Wall.
The school has iPads which were specifically purchased to enable children to remain in contact with family members when away.
The school maintains a supply of 'blueys' which children can write on at any time and will be posted to family members when away.
Transition arrangements
Details of how we have linked in with Schools in Germany can be found on Mr Wheatley's blog – Click here
Transport
A school bus service is available to transport children to and from the barracks.- Click here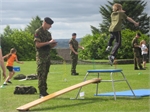 Our area
We have well established and close links to various community groups within the area which helps enhance the learning experiences of our Children.
The village has a range of shops and services, which will assist many as we realise that families based at Albemarle may feel isolated due to it's remote geographical location. Click here
We have a good bus service passing through Heddon village, this gives easy access to Tyneside & other parts of Northumberland. Click here
Newcastle International Airport is only a few minutes drive from Heddon.
Members of our School staff speak German fluently.
(Mitglieder unserer Schule Personal spricht fließend Deutsch.)
Our website has google translate facilities available for all pages.
Members of our School staff are army wives and have a wealth of experience of supporting children when members of their families are away on active service, as this is something they themselves have experienced they have a greater understanding of how it can affect the children.
We have good links with the support services within the Military.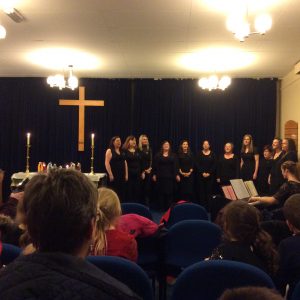 (Some of our School staff are members of the Military wives choir).
Useful information
Our School admission policy- Click here
School holidays – Click here
Service premium – Click here
Service premium – (Poster) Click here
Children's Education Advisory Service (Military) – Click here
Videos produced by 'Children's education Advisory service' – Click here
Supporting children, young people and families during periods of deployment – Click here
Our website is divided into various sections which give information about all parts of our School life.
The team at Albermarle barracks maintain a blog for the residents–
Ouston Hive – Click here
Debra (above) from the Hive is a welcome visitor to our School.
Do you need wrap around care ?
Check out our St Andrews club – Click here
If you have any queries we would be delighted to help you.
Please feel free to contact us by telephone, e mail or in person Click here 
Our School is located only 4.6 miles /7.5KM from The barracks (shown as Ouston Airfield on the map below) This takes only approximately 10 minutes via the B6318 road.
You can follow us on twitter  @HeddonSchool & Facebook
Have you signed up for our weekly e newsletter yet ? – Click here