We are delighted to support various appropriate Charities throughout the School year.
We believe that this is an important part of the Children's education & Christian ethos.
The contributions from our Children & their families are entirely voluntary.
Unfortunately we are unable to support all requests from charities & other good causes as we receive numerous each month, we may not be able to reply to requests.
Details of whole School charity support is given below-
December 2016
Santa' s helpers have just contacted our School to say that an amazing £296.06 was the total collected during his grand tour of Heddon on Friday.
Therefore we will receive £150.00 towards providing extra support for our Children.
The remainder is going to the great causes that The Lions Club support,
Apart from the cash collected there was also a lot of smiling faces which was so great to see.…
December 2016
We have received a card informing us that our school raised the staggering sum of £315.86 from the sale of poppies and associated memorabilia for the Royal British Legion.
In addition, the Christmas Jumper appeal raised a further £139.35 for the charity.
Well done everyone and thank you for your support.
December 2016
Thank you to everyone who sent a shoebox for Operation Christmas Child we sent a total of 25.
An amazing effort. Well done.
November 2016
BBC Children in Need 2016
An astounding total raised by Heddon St Andrew's First School for Children in Need is £623.25. Fabulous and thank you to everyone who supported this very worthwhile cause.
Thank you also to Mrs Henderson's mam the legendary Martha for  counting the money.
November 2016
PCDC:
We continue to support People's Compassion for Destitute Children in the Lands of the Bible by sending an annual donation to them which enables a child to attend school and helps to provide exercise books, pencils etc. for the child.
October 2016: Harvest Festival.
The collection of dried goods and tinned foodstuffs collected on the occasion of our Harvest festival will be collected and used by The People's Kitchen.
June 2016
The proceeds of our 'Dress Up and Dance' Day will all be sent to the Macmillan Cancer Charity. Thank you for your support.
 May 2016:
Happy Feet Day:    
Thank you very much for your support of this fund raising activity. We are pleased to say £122.30 was raised for the charity.
March 2016
Sport Relief – A fantastic day of events –
December 2015
Heddon School in conjunction with The Mid Tyne Lions  supported Santa on his sleigh ride through Heddon. Money raised was a fantastic total of £430.88 divided equally between FOHS & The Lions.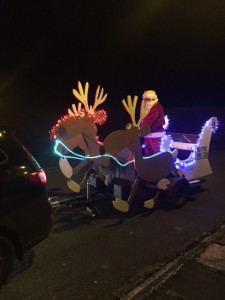 December 2015
Heddon School Choir performances at Throckley raised £40.00, this was donated to an oversees charity supporting Children in danger.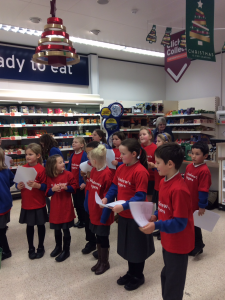 November 2015
A big thank you to everyone who made up a shoebox for Operation Christmas Child this year. A total of 35 were sent from school. It is lovely to think that Christmas for many children will be made much better thanks to Operation Christmas Child.
BBC Children in Need appeal –
Fantastic total of £156 raised from the sale of juice and biscuits for this very worthwhile cause.
Heddon Church Fair – Our School was pleased to help promote this event which raised over £1,900.
Poppy Appeal – Thank you for your support, the amount raised was a  fantastic £360.24
October 2015
Harvest Festival in aid of The Peoples Kitchen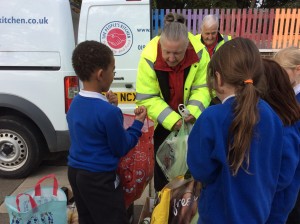 September 2015
Our Children met and sang in support of Walking with the Wounded as they travelled through Heddon village.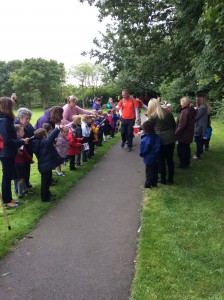 Thank you for your kind donations of food and money which we were  pleased to hand over to the Peoples kitchen charity in Newcastle which provides meals for local people in our area. – Click here