Personal, Social, Health and Economic (PSHE) education is a school subject through which pupils develop the knowledge, skills and attributes they need to manage their lives, now and in the future. It helps children and young people to stay healthy and safe, while preparing them to make the most of life and work. PSHE education also helps pupils to achieve their academic potential. 
Our pupils are growing up in an increasingly complex world and living their lives seamlessly on and offline. This presents many positive and exciting opportunities, but also challenges and risks. In this environment, children and young people need to know how to be safe and healthy, and how to manage their academic, personal and social lives in a positive way.
The School follows the PSHE Association Programme of Study for PSHE which provides a comprehensive programme that integrates, but is not limited to, the statutory content. This Programme of Study sets out learning opportunities based on three core themes:
CORE THEME 1:

HEALTH AND WELLBEING 

CORE THEME 2:

RELATIONSHIPS 

CORE THEME 3:

LIVING IN THE WIDER WORLD 
We have adopted a thematic approach to PSHE education, covering all three core themes of the Programme of Study over the school year, with three topics per half term. This approach allows different year groups to work on similar themes at the same time, building a spiral programme year on year. The topics are carefully adapted by Class Teachers to meet pupils' needs and stages of development as well as to reflect the context of their class, our school and our local community.
We add depth and breadth to our PSHE curriculum by supplementing the PSHE Programme of Study with both Relationships & Sex Education (RSE) and Drugs & Alcohol Education materials from The Christopher Winter Project. CWP has been awarded the PSHE Association Quality Mark for these resources.
---
The Christopher Winter Project: Relationships and Sex Education Overview 
EYFS –  Family and friendship
Year 1 – Growing and caring for ourselves 
Year 2 – Differences
Year 3 – Valuing differences and keeping safe
Year 4 – Growing up
Year 5 – Puberty
Year 6 – Puberty, relationships and reproduction*
*It is a parent's right to request that their child be excused from this specific lesson. Parents will always be notified prior to any Sex Education being delivered to Year 6 pupils.  
---
The Christopher Winter Project: Drugs and Alcohol Education Overview 
EYFS –  People who help us 
Year 1 – Medicines and people who help us
Year 2 – Keeping safe
Year 3 – Smoking 
Year 4 – Alcohol
Year 5 – Legal and illegal drugs 
Year 6 – Preventing early use 
---
Commando Joe's: Physical and Mental Well-being 
We also enhance our PSHE Curriculum through our Commando Joe's provision. Each year group receives one block of Commando Joe's sessions per year which encompasses character building, teamwork, life skills and future employability. Alongside supporting behaviour management, CJ's promotes and teaches physical and mental well-being. Commando Joe's is founded on the 6 Cs: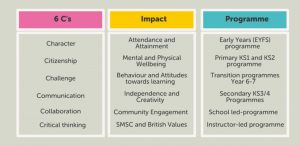 ---
The 'Thrive' Approach
Thrive promotes children's and young people's positive mental health by training school staff to know how to be and what to do in response to their differing and sometimes distressed behaviour.
Based on established neuroscience, attachment theory and child development, the Thrive Approach equips staff with the knowledge, insight and resources needed to develop the relationships that help children and young people to flourish and learn.
Our dedicated, licensed Thrive Practitioner is Mrs. Walker who works 1-2-1 with pupils across school who require social, emotional or mental health support. Mrs. Walker works closely with our SENDCo, Mrs O'Reilly, to ensure the right support is put in place at the right time to help pupils manage any difficulties they are experiencing. 
Our Designated Leads for Mental Health (DLMH) are Mrs. O'Reilly and Mr. Wheatley.
---
Supporting Special Educational Needs and Disabilities
All children with SEND will have equal access and opportunities within the curriculum. The School will support these children to 'catch up', 'keep up' and experience success in the following ways (where appropriate):
High quality teaching each day through Ordinarily Available Provision (formerly Quality First Teaching);
Opportunities for pre-learning (particularly new vocabulary) before lessons;
Appropriately scaffolded or differentiated work or materials;
Classrooms and materials set up to reduce cognitive load and follow dyslexia friendly strategies;
Children with SEND have a Pupil Passport which identifies approaches and strategies to be used which will help them to succeed;
For children with Education, Health and Care Plans there may be 1:1 adult support in lessons.
The School recognises that while a child may have additional needs in one area of the curriculum they may well have skills and talents which allow them to shine and be successful in another and this is to be celebrated.