As part of our work this Anti-Bullying Week the school is pleased to be part of a National project with Stonewall.
Our school prides itself on its inclusive ethos and welcoming atmosphere. All staff and Governors truly believe that all children are uniquely made in the image of God and unconditionally loved by God with their own strengths, weaknesses, interests and personality.
The school fully embraces the core Christian values which provide the foundation for all our policy and practice meaning we aim to help children develop in all areas to enable them to become happy, well-rounded young people.
The work the school is undertaking with Stonewall is to further strengthen excellent work the school already carries out in terms of behaviour. This work will ensure that all staff are empowered and well trained to deal with any strand of bullying should it ever occur so that all children can feel safe and secure in our school.
As SIAMS (June 2017) commented: 'Pupils are safe and feel safe in this deeply caring school.' and 'Where bullying does occur pupils speak with conviction about how adults help them.'
Senior staff and Governors had an interesting and stimulating discussion with our trainer, James Robinson, last night and are looking forward to the whole staff training day in January.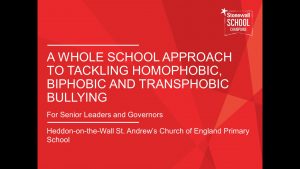 To read more please click here to read Stonewall's 'The Teacher's Report'.
As a school it is our duty to ensure that all children in our care are safe and free from discrimination.