Over the Summer holidays Keepmoat have been incredibly busy getting our new extensions ready for the start of term. This has been a £1.5million investment into the education of the children in our community. Since the construction of the current school in 1963 there has been a thriving and vibrant school community on this site. The present investment secures this for many years to come.
During the 6 weeks of the summer there has been significant works to complete both inside and outside of the building.
The new interior spaces add an extra dimension to the school and staff can't wait to show the children around the extensions.
The admin team now have a large, modern and fit for purpose office suite next to the main entrance of the school. The new secure entrance lobby means that visitors speak to office staff directly at the main door with an additional 2 secure doors between the entrance and the main school.
A new relaxed waiting area has been created as well as a purpose built meeting room for speaking to staff privately. As well as this there is a state of the art accessible toilet at the entrance.
A large airy corridor connects the new entrance suite to the main school, with security doors to separate the areas.  Year 3 and Year 5 are in the new classrooms which have been equipped to the highest standard including air conditioning units.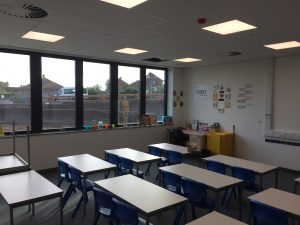 Year 4 have had new lighting installed, new carpets and redecoration.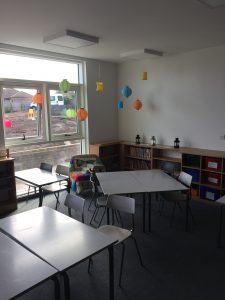 Year 2 has had their windows replaced and a new fire door installed.
The addition of the lobby to Year 1 has allowed a reorganisation of some of the smaller internal spaces with the creation of a new staffroom meaning there are more breakout rooms for small group work.
Both the boys and girls toilets have been extended and upgraded. All of the toilet furniture and cubicles have been replaced with modern and vibrant colours. Extractor fans and new lighting has been installed to make this a more welcoming area for children to use.
Externally the new extension has been impressively rendered in a brilliant white finish to contrast with the dark brickwork along with a splash of green from the new living wall. The car park has received the final coats of tarmac and a new accessible ramp to the main entrance has been completed along with a handrail.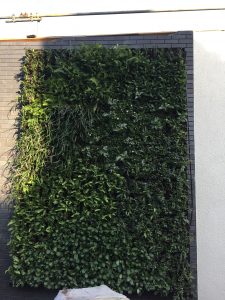 As with any build of this size and scope there have been a number of snags over the summer. This has resulted in a slight delay to the programme meaning that some areas are not yet completed. Work will continue on the Hall, remodelling of the old Year 3 classroom (which is not required for use by children) and some cosmetic external works over the coming days.
As prior to the summer the health and wellbeing of all children in our care is our priority and will continue to be so throughout the final days of the build.
We are thrilled to be opening this week as a new primary school and we look forward to working closely with you and our partner schools, including the High School, to provide an enhanced learning experience for all children. Already this year we have lots of exciting activities and events already planned which will be shared with you over the coming weeks.
Arrangements for this week.
School will open as normal on Wednesday 6th September 2017 at 8.55am.
Drop off and collection arrangements for children will be the same as prior to the summer for an interim period.
Year group                          Drop off (am)                               Pick up (pm)
Nursery                  Nursery door (Early Years Yard)      Nursery door (Early                                                                                                         Years Yard)
Reception             Reception door (Early Years Yard)    Reception door                                                                                                    (Early Years Yard)
Year 1                                  Main Yard                              Reception door                                                                                                    (Early Years Yard)
Year 2                                Main Yard                                  Hall Door
Year 3                                Main Yard                                  Hall Door
Year 4                               Main Yard                                   Hall Door
Year 5                              Main Yard                                    Hall Door
Staff will be available each morning and afternoon this week to guide parents to the correct drop off and pick up points.
Should you need to speak to the Office Staff or to collect school uniform please go to the new main office. Again staff will be available outside to guide you to the correct place.
As there will still be some work vehicles around we would ask that if you do need to bring a vehicle to school you park safely and show consideration for our neighbours.
As always staff are more than happy to speak to you if you wish.
We look forward to seeing you all again tomorrow.