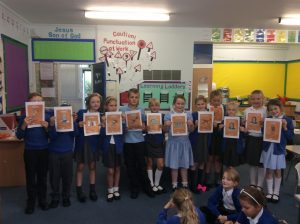 Our School is always looking at different ways that we can develop & improve, as part of that process we have support from the Northumberland School improvement service – Click here
Our topic plans are at the bottom of this page.
The school curriculum meets all the requirements of the National Curriculum 2014 and the 1988 Education Act which stated that all children are entitled to a curriculum which is balanced, broadly based which, 'promotes the spiritual, moral, cultural, mental and physical development of pupils at the school and of society' and 'prepares pupils for the opportunities, responsibilities and experiences of adult life.'
As a Church of England school this is done while ensuring that it is grounded in a Christian world view and in line with our Christian values.
The curriculum is arranged into Core Subjects:
English; Mathematics; Science; Religious Education;
The other curriculum areas form the Foundation Subjects:
Computing;History; Art; Design Technology; Geography; Music; Modern Foreign Languages; Physical Education; Personal, Moral, Social and Cultural Education.
The school also ensures that the main outcomes of the Every Child Matters Agenda are threaded throughout the curriculum to allow children to develop holistically in all areas.
These outcomes are:
Being Safe; Being Healthy; Economic Well-Being;
Enjoying and Achieving; Making a Positive Contribution.
Learning is based around overarching topic themes for each half term and is organised in such a way that the needs of all children are catered for.
Curriculum planning is such that the learning is relevant to children and will stimulate, engage and inspire them.
The School uses a combination of Reading Books based around the Oxford Reading Tree and Rigby Rocket schemes.
For the teaching of Phonics the School follows the Read, Write Inc programme.
For Early Phonological Awareness the School uses the Letters and Sounds programme (in Nursery).
Enrichment activities and visits enhance and extend the learning which takes place in school.
Welcome Leaflets Autumn 2020:
Early Years – Click Here
Key Stage 1 – Click Here
Key Stage 2 – Click Here
Our Curriculum Plans- last updated – September 2020
Autumn 2020
Early Years (Magical Me) – Click Here
Year 1 (Food and Farming) – Click Here
Year 2 (Food and Farming) – Click Here
Year 3 (The Big Dig) – Click Here
Year 4 (The Romans) –Click Here
Year 5 –
Year 6 (Vicious Vikings) – Click Here
Spelling Lists – Autumn Term 2020
Year 1 – Group 1; Group 2; Group 3
Year 2 – Click Here
Year 4 – Click Here
Year 5 – Click Here
Year 6 – Click Here
Curriculum Plans from previous years
Early Years Plan Autumn 2020
Year 2 Curriculum Plan Spring 2020 –
Year 4 Curriculum Plan Autumn 2019
Year 4 Curriculum Plan Spring 2020
Year 5 Curriculum Plan Spring 2020 –
If you require any further information about the curriculum at the School please contact your child's class teacher and they will be happy to discuss this with you.