We are delighted to announce that Friends of Heddon School have arranged for a very special visitor to come to the village.
On Sunday 10th December 2017 the guest who is known to everyone will travel around the Village to try and meet all the good boys & girls.
Yes Santa Claus is coming !!
As his reindeers are resting and building up their strength for the very special night Santa has enlisted the help of a motorised sleigh.
The route he will be taking  –
Leaving from Heddon School at 4pm travelling as follows –
Up Trajan walk.
Down Remus Avenue.
Back onto Trajan Walk before turning into Aquila Drive.
Then down Campus Martius and onto Killibrigs.
The Sleigh will return along to Trajan walk and then turn right onto Heddon banks. (Santa will not travel all the way down Heddon banks due to the size of his sleigh so please wait at the junction to greet him).
Then he will travel along Centurion way.
At the end he will go up Station road and then right onto the Vallum estate.
A further right into Calvus drive and then left onto Valerian Avenue onto Marius Avenue before travelling along the whole of Antonine walk.
(There will be ample opportunities for residents of the other parts of Valerian Avenue to meet Santa at the Junctions).
Residents of Camilla road will have the opportunity to see Santa at the junctions with Antonine walk /Marius avenue.
Santa will then return to Heddon School via Towne Gate stopping outside the Swan PH.
To help everyone enjoy this special evening we have given a few notes below.
Santa is being driven around the village by his Friends from the Mid Tyne Lions Club – Click here
Santa's helpers will be giving people the opportunity to make a donation in a sealed bucket as Santa passes by, the proceeds will be divided between the great causes the Lions Club supports and the fantastic  Friends of Heddon School-providing extra treats for the Children.
Santa needs some lots of helpers for the event who could knock on doors as he travels around and collect the donations,anyone over 16 yrs of age who would like to assist is asked to give their details to the School office.
If we do not have sufficient helpers we may have to reduce the number of houses we visit due to time constraints as per the collection licence *
Santa's sleigh for the evening can not go along every street in the village due to the size of his sleigh, but he promises he will return to all houses on Christmas eve as he always does.
We will try to keep everyone informed of his location during his visit to Heddon this will be done as far as practicable via the Schools twitter & facebook accounts (available to everyone via the website feed, but remember to refresh your computer screen to ensure you get the latest information). You should also be able to hear the seasonal music he plays and the cheers of everyone as he travels around.
It would assist the helpers greatly if people could be outside their houses or on the roadside if practicable awaiting Santa's arrival and be ready to give him a cheerful wave.
Santa really likes to see groups of friends & neighbours waiting to great him along the route.
We can not give a time that we expect to be in a particular area due to a variety of reasons such as the number of people wishing to see Santa and the number of helpers he has.
Santa would like to ensure he meets all the good boys & girls as early as possible, so please be ready to meet him.
Families may find it helpful to take the very youngest Children to see Santa outside the School main entrance gates at 4pm.
Please do not come into the School grounds as we will be closing the gates as soon as he leaves, and we would not like the Children peeping at Santa as he prepares for his journey.
For people who live in an area Santa is not able to get to including those from outside the village, he would love to see you somewhere along the route.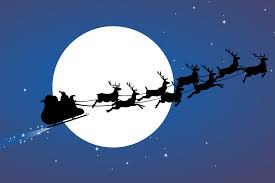 To help everyone stay safe we ask that no unaccompanied Children approach the sleigh which will be stopping and starting on a regular basis, and unaccompanied Children should not follow the sleigh.
It would be safer if Children are all on the same side of the road as Santa's sleigh to avoid them running across the road when they get excited.
Santa's sleigh and vehicle are 35 ft long, it would assist if roads along the route are kept as free as possible.
Santa realises that dogs also get excited when they see him but asks that they are kept under control.
We have copied below a map of Heddon.

You can follow our School on twitter @HeddonSchool and like us on Facebook Heddon St Andrews School 
NOTES
The visit will be advertised as follows-
Website post.
e newsletters.
Twitter
Facebook
Community blog
Hexham Courant
BBC Radio Newcastle announcement.
Posters in Heddon
Gossip Newspaper.
Heddon PC website.
Albemarle Barracks blog & e newsletter.